INTELLECTUAL PROPERTY & COPYRIGHT POLICY
Image Rights Management
#sharemyBRGstyle
Share the love! We love to share ideas that inspire people whether it's a fabulously decorated interior space, up-cycled or restored furniture or decorative accents, or an amazing piece of vintage jewelry to accessorize an outfit. Maybe your image includes something you've purchased from one of our online auctions, maybe it is something you found elsewhere.
Whatever the inspiration, if you are reading this it's probably because we inquired about getting additional rights to share your photo. Why? Well, for starters, we love your style! It also means that we want to share your photo across our various social channels such as Instagram and Facebook (just to name a couple). Our team regularly reaches out to those who have a great photographic style, eye for design, great aesthetic, and/or social media presence which is inline with our brands. We actively solicit additional rights to use, reuse, and/or share our favorite images in our blog, social media posts, and emails. Whenever appropriate and necessary, we credit you by including your handle or a byline.
While we truly believe that our audience will love your photo, it is entirely up to you whether to share it or not. If you agree to the following terms, simply respond to our inquiry with the hashtag #sharemyBRGstyle so we can share your User Content on our social channels!
Here is a sampling of user content images we have featured and/or shared through our social media accounts: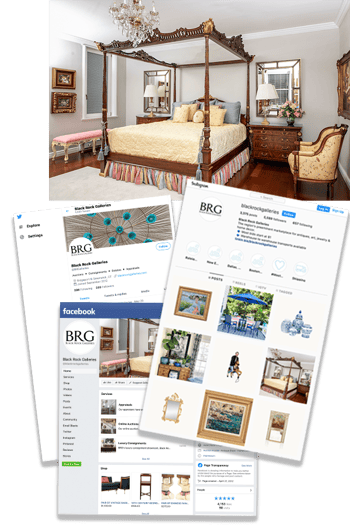 We humbly thank you for considering our request.


User Content
As part of the agreement between you and us, you own all content and information you post or share:
Using Black Rock Galleries, LLC brand websites, including, but not limited to Black Rock Galleries, Clearing House Estate Sales, and/or AuctionNinja (herein the "Company") or


Tagging any of our brands, such as posting or sharing comments, photos, and videos (referred to as "User Content").


You give the Company permission to use your User Content as follows:
You grant to the Company, its affiliates and third party agents a license to reproduce, display, perform, distribute, create derivative works from and otherwise use your User Content in connection with the Company and for other Company marketing purposes, including without limitation in the Company's social media posts, email and other customer communications, auction materials and other marketing.


The Company may display advertisements in connection with your User Content or on pages where your User Content may be viewed by you or others, and we may use your User Content to advertise and promote the Company.

Our license to use your User Content is non-exclusive, meaning you may use the User Content for your own purposes or let others use your User Content for their purposes.


Our license to your User Content is fully-paid and royalty free, meaning the Company does not owe you anything else in connection with its use of your User Content.


The Company may exercise its rights anywhere in the world.


Finally, the Company's license is perpetual, meaning that the license lasts for an indefinite period of time.


You also promise that:
You own all rights to your User Content or, alternatively, that you have the right to give the Company the rights described above;


You have paid and will pay in full any fees or other payments that may be related to the use of your User Content; and


Your User Content does not infringe the intellectual property rights, privacy rights, publicity rights, or other legal rights of any third party.


You agree to indemnify and hold harmless the Company and its affiliates from all liabilities, claims, and expenses that arise from any breach of your representations and warranties of intellectual property rights or ownership of your User Content.


The Company may refuse to accept or transmit User Content for any reason. The Company may remove User Content from the Company's site and/or channels for any reason.


Miscellaneous
This Agreement represents the entire agreement of the parties with respect to the subject matter hereof and no changes or modifications or waivers or supplements to this Agreement will be effective unless in writing and signed by both parties hereafter. This Agreement shall be governed by and construed in accordance with the laws of the State of Connecticut without regard to the conflicts of laws provisions thereof. The provisions of this agreement are severable and the invalidity or unenforceability of any provisions hereof shall not affect the validity or enforceability of any other provisions hereof.


Copyright & Intellectual Property Policy
We take copyright and intellectual property usage very seriously. If you have reason to believe that a user of the Company infringed on your intellectual property rights, or if we have taken down your materials due to suspicion of copyright infringement, and you would like to dispute the alleged infringement, please click here for information on how to notify us.


Privacy Notice
If we share your photo, your user content may be displayed as outlined above. This may include displaying your social media handle along with your image (as outlined) above. The Company collects and processes this information as necessary for the performance of this contract between us. We may work with a third-party service provider to help us review, gather, and display your user content. For more information, including how to exercise your rights in relation to the personal data we hold about you, please see our Privacy Policy:
Black Rock Galleries
AuctionNinja
Have additional questions?
Email the social media team to get the answers.
INTELLECTUAL PROPERTY & COPYRIGHT POLICY
Notice of Copyright or Intellectual Property Infringement
Black Rock Galleries, LLC and its brands, subsidiaries, and affiliates (herein the "Company") respects the intellectual property rights of others. Please notify the Company in writing, by email or mail to our designated agent listed below, if you believe that a user of the Site has infringed your intellectual property rights.
In order to be most effective, your notification should include:
Identification of the copyrighted work claimed to have been infringed, or, if multiple copyrighted works are covered by a single notification, a representative list of such works;


Identification of the claimed infringing material and information reasonably sufficient to permit the Company to locate the material on the Site;


A statement by you that you have a good faith belief that the disputed use is not authorized by the copyright owner, its agent, or the law;


Information reasonably sufficient to permit the Company to contact you, such as an address, telephone number, and, if available, an email address;


A statement by you, made under penalty of perjury, that the above information in your notification is accurate and that you are the copyright owner or authorized to act on the copyright owner's behalf; and


Your physical or electronic signature.
You acknowledge and agree that upon receipt and notice of a claim of infringement, the Company may immediately remove the identified materials from the Site without liability.


Counter-Notice by Accused User
If the Company has removed or "taken down" your materials due to suspicion of copyright infringement, you may dispute the alleged infringement by sending a written communication by email or mail to our designated agent below. That written communication should include the following:
Identification of the material that has been removed or to which access has been disabled and the location at which the material appeared before it was removed or access to it was disabled;


A statement under penalty of perjury that you have a good faith belief that the material was removed or disabled as a result of mistake or misidentification of the material to be removed or disabled;


Your name, address, and telephone number, and a statement that you consent to the jurisdiction of Federal District Court for the judicial district in which the Company is located, and that you will accept service of process from the person who provided notification of copyright infringement or an agent of such person; and


Your physical or electronic signature;
Please send all notices under the above copyright infringement policies by email or mail to the following individual, designated as the Company's agent for receipt of notifications of claimed infringement:
Black Rock Galleries, LLC
1270 Fairfield Ave
Bridgeport, CT 06605
Please do not send notices or inquiries about anything other than alleged copyright infringement to the Company's Agent for Notice.